Our Services
Concrete Washout Solutions provides cutting-edge, environmentally-safe containers for concrete washout. Our containers are sizable and effective. This is a welcome change of pace from the traditional solutions to concrete washout. It's all-too-common to see washout pits, which can be cumbersome, prone to leaks, and harmful to the environment. It can also be harmful to your bottom line, as they put your entire project at risk of violating local and federal environmental regulations. Simply put, when it comes to concrete washout in New Jersey, finding a solution that's simple to implement is a must.
You won't have to worry about any of that with Concrete Washout Solutions — your solution to washout pollution. We offer a variety of state-of-the-art services, including two different types of washout containers and a patent-pending Enviro-Vac System that comes equipped with our roll-off trucks. Learn more about our services below.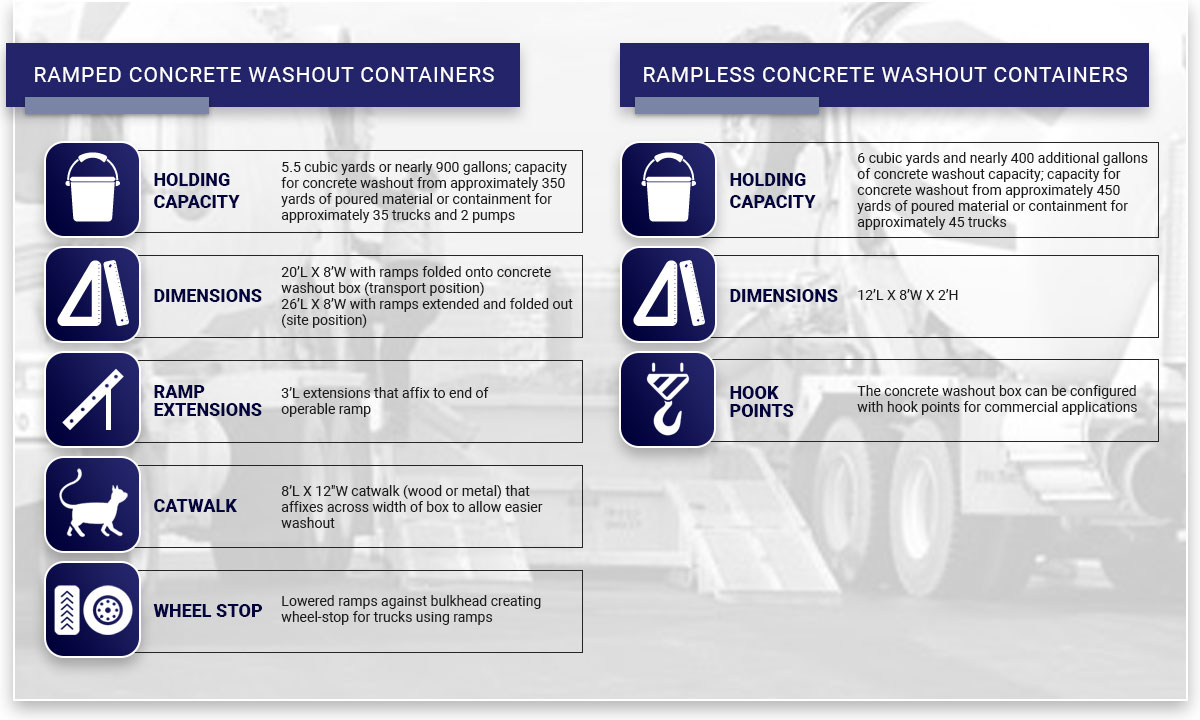 ---
Vacuum Services
Our roll-off trucks are equipped with a patent-pending CWS Enviro-Vac System that enables our drivers to vacuum the concrete wash-water and remove and replace the concrete washout container if needed. Our vacuum trucks will also maintain your concrete washout box that does not require removal.
Why Choose Our Services
Concrete Washout Solutions has rapidly gained a reputation as one of the leading choices for effective washout bins. And there are good reasons for it.
The last thing you need is fees — or worse — for failing to live up to the laws and regulations for washout. Concrete wash water is noxious and can be extremely hazardous to the local ecology, including the water supply. The slurry that results from washout can have pH levels on par with Drano. That is not something that you want your site to be leaching into the groundwater. Historically, the risk of this occurring has been high. This is not simply because the regulations were more lax, but also because the technology simply had not caught up. Washout pits are often jury-rigged and crafted using things like hay bales and plastic lining. This can be both labor-intensive and leave your site vulnerable to spills and leaks. These antiquated technologies will be:
Prone to tearing

Cumbersome and time-consuming

Harsher on the environment

Difficult to maintain EPA compliance
Our washout bins will prevent any of that from happening. You can ensure that your site is compliant with regulations and avoid exposing fresh waterways to caustic, corrosive concrete washout water and materials that may result in all sorts of damage to ecosystems.  We have brought together innovative technology, creativity, dedication to quality and efficient service, and a passion for the environment to bring you the very best in concrete washout containers. Simply put, we are the responsible choice.
Are you ready to get started? When it comes to concrete washout, New Jersey is in good hands with the pros at Concrete Washout Solutions. No matter your needs, we'll work hard to keep your jobsite, your crew, and your local ecosystem safe. You can contact us today to maximize the effectiveness of your construction site, or to ask us any and all of your questions. We look forward to hearing from you!